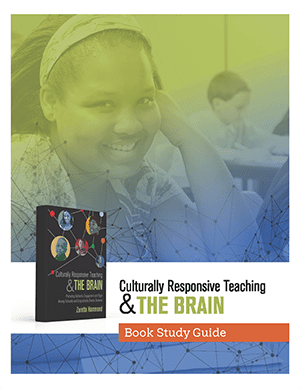 I spent three amazing, brain-busting days in Chicago at the CASEL SELXChange conference two weeks ago and I know that the lessons and conversations will continue to reverberate in my brain for a long time to come. It was an extraordinary gathering of folks who are interested in the well-being of children and how we can fix the broken education system to serve children better.
There are so many places to focus attention and shine a light, but the one I've chosen to dig further in to this week is the idea of cultural differences and what they mean and how they affect the experiences of students every day. The first thing I did was pick up Zaretta Hammond's book "Culturally Responsive Teaching & the Brain."
As commonly happens in my world, things started to converge. When I read her explanation of "cultural archetypes," in particular, the distinction between collectivism and individualism, I was reminded of a quote I've heard over and over again from Peter Drucker:
"Culture eats strategy for breakfast."
Of course, he was referring to the culture of a company, but it's true in the case of schools, too. We can have the best educational strategies around, but if they don't take in to account the cultural background of the kids we're teaching, they will fall flat. Hammond talks about the fact that many kids will come to school from families whose beliefs and values center around collectivism, and if we have our classroom norms set up around individualism, those kids will struggle to find resonance.
Even if we put kids in to groups to do projects or explore concepts, our bedrock in most cases is individualism – we talk about leaders (singling out one student in each group) and emphasize grades and don't take the time to explore what each student is bringing to the table as far as cultural viewpoints.
As my amazing, insightful friend Jen Lemen says, "the way we hold individuality and the idea of contribution to a group puts a lot of weight on our personal preferences and experiences and a lot of weight on the group being a certain way. If the groups aren't a certain way and I don't feel good myself, I have to hyper-individualize or hyper-conform or squash some part of myself. After doing that for a while, either you crack or the system cracks."
Encouraging kids to do group work without really talking about what that means and exploring the responsibility of each member to themselves and the others is asking a lot. As I talked about in my last post, we can't assume that everyone is coming to the work in the same way, and if our classrooms and systems are set up to reward individualism, then the kids who have been steeped in that culture will naturally thrive while the ones for whom individualism is alien and challenging will not. Simply calling something "group work" or "collective" is not enough. We have to really understand what that means to each student and acknowledge the barriers it throws up for some.
The kids who are coming to us with completely different world views are already working harder. If our systems trigger big questions of values and identity for them, the work they do to conform derails the work they're doing to learn the material we present. And for some of those kids, behavior issues are a result of hyper-individualizing or cracking. When the system is bigger than you and supported by the dominant culture, it's more likely that you'll crack than the system. But as more and more children from diverse backgrounds enter our school system, what we are seeing is the system beginning to fall apart. Rather than panicking and trying to shore it up, I believe we need to see it as an opportunity to radically re-think how we serve kids.
We've centered the system for far too long. It's time to start centering the students and their well-being. There are many ways to do that, and one incredibly powerful one is for folks to find Hammond's book and hold it up against the practices and priorities we have in our educational systems right now to see where we can do better.
https://www.theselfproject.com/wp-content/uploads/2019/10/CRTandtheBrain_Study-Guide_2017-FRONT-300w.png
388
300
Kario
https://www.theselfproject.com/wp-content/uploads/2020/07/SP_logo_var1100-300x83.png
Kario
2019-10-17 10:31:03
2020-08-31 18:35:51
Tips for educators: cultural responsiveness and student-centered work