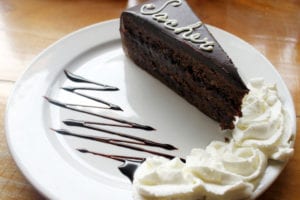 By Bing – Flickr: Austrian Bakery, CC BY 2.0
"Mindfulness" is a word that may inspire eye-rolls, thanks to its near-constant use in many different aspects of pop culture. But, regardless of its "buzzword" status, it can have far-reaching effects for adolescents who are encouraged to use it throughout the day.
Mindfulness is simply the ability to interrupt the cycle of reflexive thought responses that we all have in order to focus our attention. In my ten or so years of practicing mindfulness, one of the most impactful effects it has had on me is that it leads me to curiosity – it literally forces me to open my mind to possibilities I wouldn't otherwise consider. And that is one reason why it can be incredibly useful as a skill to cultivate for committed, focused students.
When the tasks in a classroom are prescriptive and it is accepted that the purpose of a lecture or activity is to get from Point A to Point B, a student's ability to get curious is limited. Think about it like this: if you are baking a cake and you have the recipe in front of you, and you only have a certain period of time to get the cake done, you will follow the recipe step by step. While this will probably get you to the end point you desired, chances are, because of the way the human brain works, you will have let your mind wander off task as you measured the ingredients and mixed them together and followed the rules. There are only certain portions of your brain that become active when you are following a set of instructions to get to a known outcome, and that allows you to not completely focus on what you're doing, which means that the next time you bake this cake, you will likely have to consult that recipe again because you didn't really learn much from the process.
If students are encouraged, however, to play with the order of things or design their own 'recipes,' or told that the outcome is not predestined, they are more likely to get curious about the process. This is a much more expansive opportunity that engages them and, perhaps counterintuitively, sharpens their focus. Think about it – if you are walking through a room in a building you are in frequently and there is plenty of ambient light, you won't pay much attention to the details because you believe that you already "know" what's there. But if you are blindfolded and sent in to a room you've never been in and asked to find your way out the other end, your attention becomes sharp. You listen for clues, use your hands and feet to feel your way, and begin to create a mental picture of where you are. Chances are, by the time you find your way out, you will feel like you know that room very well. This is mindfulness. This is paying attention. This kind of activity lights up the portions of the brain that are involved in memory encoding and learning.
Mindfulness leads to curiosity. Once students learn to find that pause in their regular mind-chatter, they can begin to question their own assumptions and motivations. The more they practice mindfulness, the more likely they are to lead with curiosity in situations where there seems to be little room for it. There are so many time and content constraints placed on educators that it can seem impossible to create a lesson plan that encourages flexibility instead of recipe-style activity or lectures, and this is why students need mindfulness skills. Because when they find themselves in those kinds of classes, they can still create room for curiosity on their own and impact their own ability to learn and find meaning, as well as enabling themselves to focus on the task or subject at hand.
https://www.theselfproject.com/wp-content/uploads/2017/04/Austrian_Bakery.jpg
586
880
Kario
https://www.theselfproject.com/wp-content/uploads/2020/07/SP_logo_var1100-300x83.png
Kario
2017-04-07 10:06:44
2020-08-22 05:24:51
Why Mindfulness is Good For Every Classroom