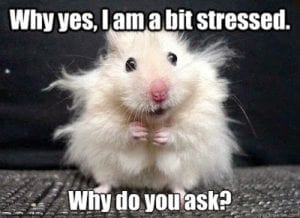 We all want to be happy. But we can't be happy all the time – no matter how much we wish we could. So what is the next best thing? Well-being. A state where, even if things are going wrong, we feel safe and secure and optimistic that life will improve and we'll return to a better place.
Well-being means that we can accept our current circumstances with calm and grace, that we don't freak out and convince ourselves that this will end in the worst possible way, that life will never be good again, that we are doomed.
So how do we achieve that? It varies from person to person, but there is some evidence that well-being is a neurological state, and since our brains are continually growing and changing, that means that we can influence our own well-being. So even if you haven't been a particularly optimistic person in the past, you can affect your future ability to be well. The four neural circuits that have been shown to promote well-being are:
Attention – People who have honed their skills at being present and paying attention to what they are doing in any given moment are primed for well-being. The skill associated with focus and intent (as opposed to multitasking or mindless, habit-driven acts) is key to developing a sense of contentment. [basic mindfulness meditation strengthens this neural circuit, as does simply paying close attention when you are doing every day things like eating or driving or walking]
Outlook – Do you have the ability to see the things in your life that are positive right now? Do you spend time savoring the things that put a smile on your face or the times when things went right? [a gratitude practice can really build this 'muscle' in the brain because it helps you focus on the things we often take for granted]
Generosity – Individuals who routinely think of and help others have a strong sense of well-being. Not only because doing good makes us feel good, but because it strengthens our sense of connection and community which is vitally important for a sense of happiness and contentment. [lovingkindness and compassion meditation have a significant impact on the brain centers associated with well-being]
Resilience – There's a real chicken-and-egg feel to this last one because the faster we recover from adversity, the more calm and relaxed we are, and the more content we are with our lives, the faster we recover from unexpected events. But we can only really develop resilience if we are truly paying attention to how we feel and we work through (as opposed to denying) our struggles. [mindfulness meditation can teach us how to handle challenging times by allowing us to sit with unpleasantness and discomfort without trying to change it or fight it]
If you need help with any of these areas, check out the links to specific meditations on our website.
https://www.theselfproject.com/wp-content/uploads/2017/07/stress.jpg
290
400
Kario
https://www.theselfproject.com/wp-content/uploads/2020/07/SP_logo_var1100-300x83.png
Kario
2017-07-30 17:41:52
2020-08-22 05:22:59
Got Well-Being?